About the tour
Trip Includes
Trip Excludes
Gallery
Reviews
Booking
Downloads
Payment Terms
Items To Carry/Essentials
What can you expect
Situated in the state of Assam in the midst of the Brahmaputra river basin, the Kaziranga national park is regarded as one of the finest national parks in India. A UNESCO world heritage site, kaziranga is famous for its population of  Indian one-horned rhinoceros. Nearly 2/3rd of the worlds population of this species is found here.
With over 430 sq.km. of undulated wilderness this park has tall alluvial grasslands interspersed with numerous broad shallow pools fringed with reeds and patches of deciduous to semi-evergreen woodlands. This kind of bio-diversity is what makes Kaziranga a hotbed of wildlife activity. Along with its iconic species of one-horned rhino this park is also home to Indian Elephant, Wild Buffalo and the enigmatic swamp deer or barasingha.
The only ape found in India, the hoolock gibbon is also found in this park. There has been a steady increase in the population of Tigers and leopards in this park and tiger sightings are fairly common in the summer months from Apr - May. Some very rare and endangered animals such as the Hispid hare, Indian pangolin, Chienese Pangolin, Hog bagder and the flying squirrel are also found here.
Kaziranga is also recognized as an Important Bird Area by BirdLife International for conservation of avifaunal species. This park is home to more than 400 species of birds some of which are rare and endangered like greater adjutant stork, Blyth's kingfisher, white-bellied heron, eastern imperial eagle, white-tailed eagle and many more.  Kaziranga is also famous for its population of Indian vulture, slender billed vulture and white-rumped vulture. Two other rare and enigmatic species of birds which are found here are the Great Hornbill and the Wreathed Hornbill.
All in all the absolute bio-diversity and the rich wildlife of this place makes it a must visit. So pack your bags and start planning your trip to this magical place.
Itineraries
Day 1
Your Plan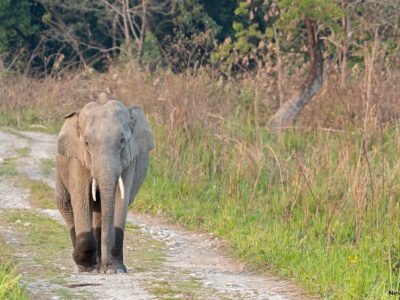 We meet at Guwahati airport / railway station and travel towards Kaziranga national park by AC car.
Lunch enroute.
The travel time from Guwahati to Kaziranga is approximately 4-5 hrs. We reach our accommodation by evening.
Checkin to our resort and relax.
Your Nemophilist tour leader will explain you all the details of the tour in detail in the evening. Have dinner and retire for the day as you would need to wake up early in the morning.
Day 2.3 and 4
Your Plan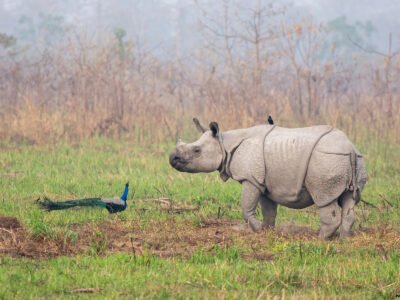 We get up early in the morning have morning tea and undertake our morning safari in the forest.
Come back by late morning freshen up and have breakfast. Relax a bit.
Have lunch and get ready for our afternoon foray in the forest.
Come back in the evening from our Safari have some evening snacks and relax a bit with the other participants.
Enjoy our dinner and retire for the day.
Day 5
Your Plan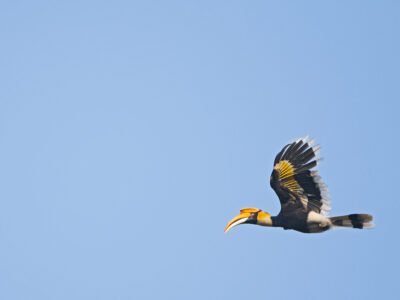 Get up a bit late today and have breakfast. Checkout from our accommodation and start towards Guwahati.
Reach guwahati by afternoon. Tour ends here.
Travel from Guwahati to Kaziranga by AC car
Accommodation on twin sharing basis 
Food for all days during the tour
6 Safari in core zones of Kaziranga national park
4 in a gypsy
Safari charges, permit charges and entry fees for the park
Services of Nemophilist tour leader who will assist you in wildlife observation, understanding the jungle and wildlife photography during the tour
Any personal expense like Laundry, cold drinks etc during the tour
Any tips, gratuity etc
Anything other than Inclusions mentioned above
Want to send trip information to others?
50% advance payment on the booking date and balance 50% on or before 90 days of travel.
Cancellation Policy
50% refund if canceled before 90 days of travel.
No refund if canceled after above mentioned days

Please Note: During camp, strictly follow the instructions of the camp leader, guide, and the organizing staff.
Clothing related items:- Light colored clothes (preferably t-shirts, pants, tracksuits, salwar kameez etc), cap, scarf, handkerchiefs, socks, towel, bedsheet.
Medically related items:-  Band-Aid strips, washing and bathing soap, personal medicines prescribed by doctors.
Personal Hygiene:- Toothbrush, toothpaste, toiletries, hair cream, comb, napkins.
Others:- Torch (with an extra pair of batteries), water bottle, sunglasses, camera.
Knowledge of the flora and fauna of the forest.
Approaching wildlife in the field.
Identification of different mammals and birds
Pugmark study and bird calls study.
Exposure control while taking photographs.
Framing and composition
Living close to nature Amazing memories Desire to explore other places
Please Note: During camp strictly follow the instructions of the camp leader,guide and the organizing staff.